Welcome to Maven!  Winchester's first female coworking space.  If you are looking to meet with other like minded business women then join our community.  We love to create, share and get stuff done.
I love how life take's different twists and turns and how little light bulb moments can lead to a new business or change of direction…
From bridal boutique to co-working space, sounds like quite the departure doesn't it?
Back in October 2019, I closed my well loved bridal boutique, Exquisite Bridal Couture, excited and ready to start my next chapter.  I threw a very exclusive closing party in the boutique for my closest girlfriends and as you can imagine, we had a whale of a time trying on dresses to our hearts content.  Girls together, in a beautiful space, having lots of fun – it's what we do best hey?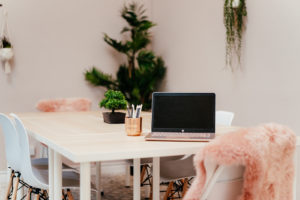 With Exquisite closed, the boutique space was due to go too.  However something in my gut was telling me not to let that happen.  I spent the pre-Christmas months working on new projects in the space, now empty of wedding dresses, but still as equally inspiring and beautiful to be in.  High vaulted ceilings, natural light coming through and a dusting of Farrow & Ball's Peignoir on the walls I was in my ideal workspace.  The only thing I didn't like, was that I was working in here alone…
Networking has always been a part of my business journey and so I got to thinking about holding events in the space so that women can come together and enjoy it with me.  And there Maven was born!
I am super excited about making Maven a creative, collaborative and social hub for the amazing women of Winchester.  Join me, come and have a coffee with me in this magical space, you'll find it hard not to feel inspired!
Natalie x