Fancy a taste of Maven, but live too far away?  Or maybe your business just doesn't allow you that time to get into our office?
That shouldn't mean that you have to miss out on the all the benefits our Maven community brings, does it?
Born in lockdown, but with a permanent place in the Maven Mix our Online Membership is here to provide you with a fun loving, caring and supportive community to ensure you still get your dose of Maven mo-jo!
Maven Online is simple, effective and brimming with productivity to keep your business on track.
Going it alone is so last year…
 Our Virtual Co-Working Sessions are here to banish that loneliness, by bringing together a team of solopreneurs, all looking to connect, collaborate and create goals together 🌟
Did you know that the odds of accomplishing your goals are higher if you have a community to support you?
Through Maven Online you'll be sure to make some magic business connections, meet new friends and bring some fun back into WFH.  Think Virtual Coworking,  a kick-ass community of supporters and the motivation to get stuff done!
For just £20 a month you get
🌟 Weekly Virtual Co-Working Session 
🌟 Bi-Monthly Community Online Goal Setting or Brainstorming Sessions 
🌟 Opportunity to book a desk at Maven – £20 a day
🌟 Quarterly 1:1 strategy session with Natalie
🌟 24/7 support in our Private Slack Workspace
🌟 10% off IRL Maven Masterclasses, Social Mixers and Maven Hire
🌟 Weekly Feel Good Friday Round Up Session
Is Maven Online for me?
Maven is all about giving ambitious women the room to thrive.
Whether you are a corporate jet-setter or a self employed CEO, the secret to the success is in the support.
Scaling up is no walk in the park, that's why we offer unlimited opportunities to make your work, work for you.
↓
What our Virtual Coworkers say?
I loved my virtual co-working sessions with Maven.  They helped me stay super focussed and so much more productive.  The other women who attended were so friendly and made me feel welcome straight away.  
I can't wait to join them again!
Three words to sum up my virtual Maven co-working session:  I loved it!  To be honest, I was not sure what it would look like, and it really surprised me.  My first session was really fun as this was the opportunity to virtually meet and chat with some great business women.  At the same time, I was able to focus efficiently on some urgent tasks.  And this boosted me for the whole day.  Just one advice: try and join us, you won't regret it!
The Virtual Co-Working Sessions really surprised me.  The Maven Community is friendly and welcoming and on top of that Nat breaks down the session into small blocks, making it easy to focus on specific tasks on your to do list.  
I loved the accountability it brought out in me.  It really is a win win.
And you are still a fully fledged Maven!  With priority booking and discounts for all of our Masterclass & Mixer events you can dip into those IRL events when you fancy it.
From Woolworth's to Harvey Nichols, bridal boutique to co-working space, I've always had business in my blood.  After graduating with a degree in Textile & Business Management, I combined my love of fashion and business to rise through the ranks at Harvey Nichols, styling celebs like Beyoncé and leading a team of over 100 – I was in my element.  It was the DREAM job.
But…something was niggling away inside of me.  Little did I know, it was the bug on entrepreneurship!  Despite forwarnings that people 'go there to die', I relocated myself and my newly aquired husband to Lymington, where my luxe bridal boutique was born!  10 years, a new boutique in Winchester and lots of business decisions later, I birthed my second business baby – Maven.
What you see here is a community that I wish I'd had years ago.  Working with people, delving into business and creating meaningful connections is my jam…  and this Maven Haven is yours!
Sign up to our Newsletter for community updates, events and inspiring stories!
Read all about Maven and the business of co-working over on my blog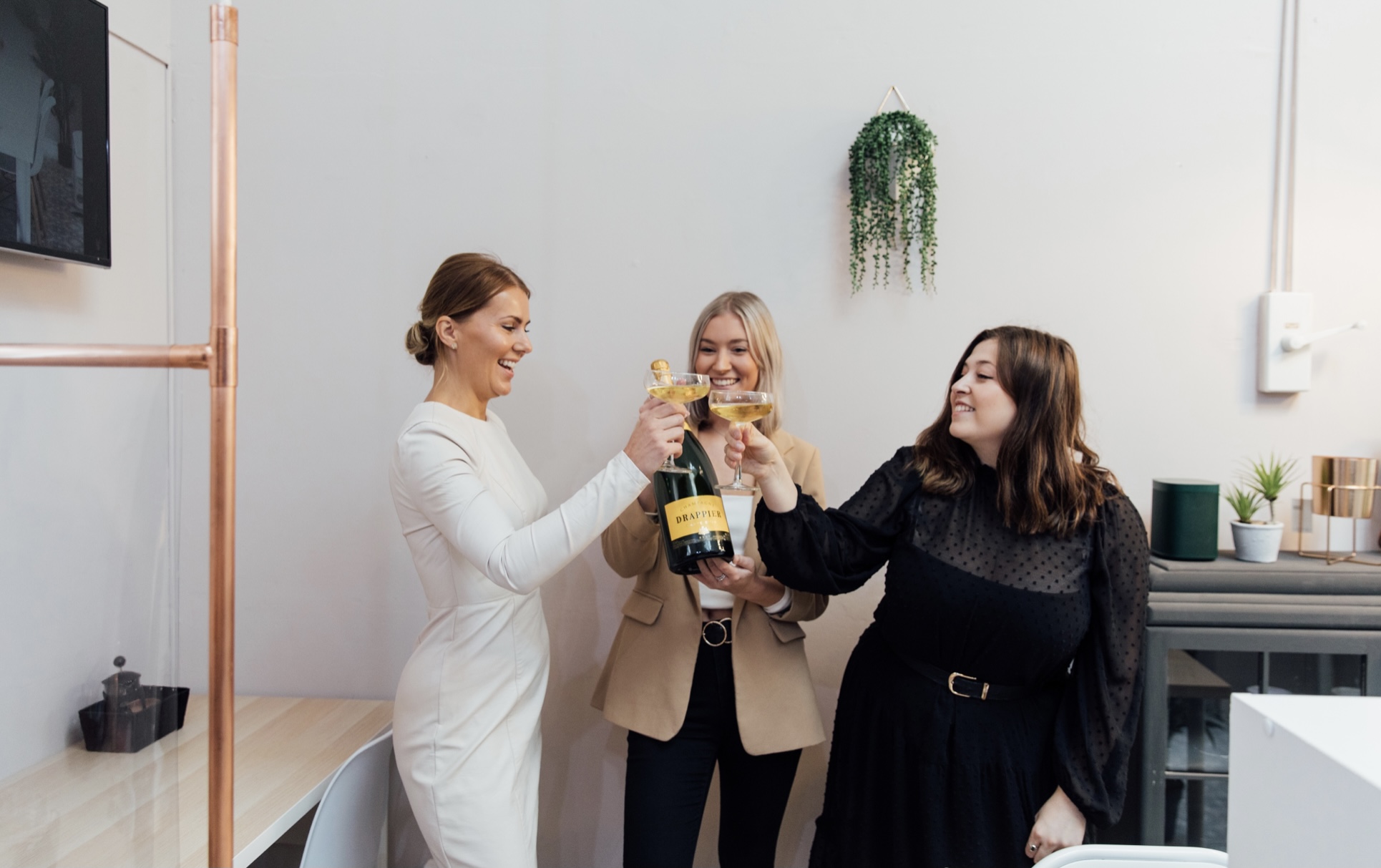 So the idea for Feel Good Friday's literally rained down on me when I was deep in the creative part of my cycle in March. Shout out and life long thank you here to the amazing Maven Lou Perham, Cyclical Living Coach, for guiding me through her 1:1 Program - Discover...
read more